Duke's Mayonnaise
Prologue
︎︎︎
Loyality is shown through real stories. Duke's has those true stories and real loyalty because it shows commitment to their condiment.
Goal: Gain loyalty outside of the South and infiltrate metropolitan cities in other parts of the country through true stories associated with the Duke's brand.
---
Chapter One:
OOH
︎︎︎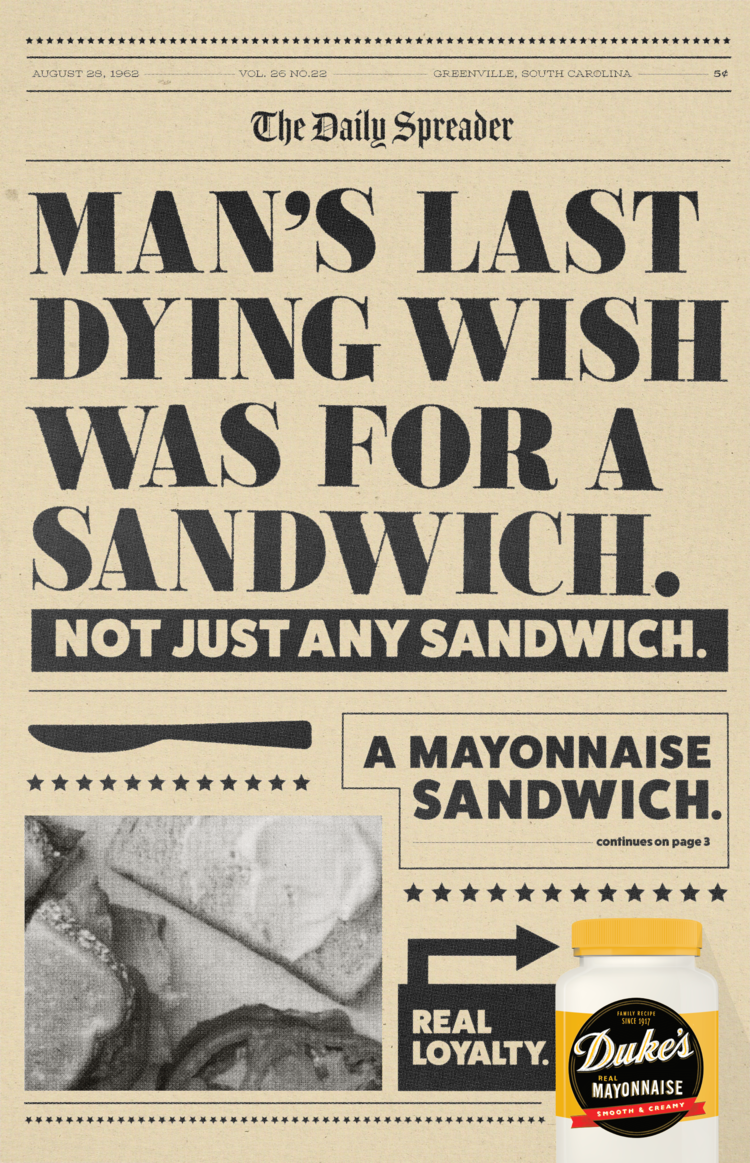 ---
Chapter Two: The Duke's Sandwich Dispatch ︎︎︎

The Duke's Mayonnaise brand started via a sandwich cart in Greenville, South Carolina, by Eugenia Duke. We aim to carry on the true legends and stories of the Duke's legacy with a food truck in metropolitan areas throughout the U.S. We aim to introduce everyone to this Southern staple, all at the same price point as it was 100 years ago–5 cents. ︎︎︎


---
Chapter Three: The Museum of Duke's, Greenville, South Carolina ︎︎︎

Nothing says loyalty than traveling to the place where it all started.



---
Chapter Four:
Test Kitchen
︎︎︎
The Test Kitchen Experience aims to get at-home chefs to test the versatility of Duke's and make all their meals a little bit better, with the best ingredient, of course. ︎︎︎
---
Chapter Five:
Real Loyalty Spatula
︎︎︎
Never let a drop go to waste.
---
Bonus:
Duke's Real Stories
︎︎︎
---
Work by ︎︎︎
Art Direction,
Adam DuBrueler
Copywriting,
Malcolm Richardson
Strategy,
Payal Pereira